Anti Skid Tape
Anti Skid tape is a waterproof, high traction tape that prevents slipping in slippery and hazardous areas. With the possibility of indoor and outdoor use, this product can be used in stairways, pedestrian ramps, and around swimming pools. Slip resistant adhesive tapes provide safe and effective solutions to all areas where slips and trips can cause injury. Give yourself piece of mind and make your home and work place safe for family, visitors and staff. Our anti slip tapes are all manufactured using the highest quality raw materials that result in a durable application that is resistant to heavy traffic, water and grease. Our tapes provide a consistent co - efficient of friction with easy installation.
• Size: 25 mm (1 inch) X 60 feet.
• Size: 50 mm (2 inch) X 60 feet.

Available Sizes: 1 inch, 2 inch.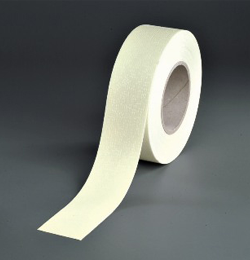 Anti Skid Tape
Feature
• Safety: The anti skid tape effectively prevents accidents caused by slipping with its anti skid
attributes.
• Workability: Anyone can easily position the Anti-skid tape on steps because of its superior flexibility.
Able to bend over 90° angles without fracture.
• Fine Colours: A customer can choose the color he wants from the diverse color selection according to
his own reference. And can be placed on any Color Surface.
• Used In: Building entrance and foyers, public access areas, shopping malls, residential domestic
kitchen and bathroom, swimming pool edges, steps and starting blocks, aquatic centres,
spa and sauna areas, stair edging, gymnasium equipment, marine and boating, wheelchair
ramps and entries and many more.
• Suitability: Suitable for all kinds of surfaces like Granite, Marble, Ceramic Tiles, Wood, Glass, Metal
etc.
• Properties: Chemical Resistant,UV Resistant Water Proof.
How to apply Anti Skid Tape ?
• Remove debris and dust from the surface of stairs or floors.
• Detach the Nonslip tape from its paper backing and adhere it to the surface.
• Firmly press the tape to the surface for perfections adhesion.
Where can I use Anti Skid Tape / Safety Walk Tape ?
• It can be used in retirement homes, aged care facilities, hotels and motels, child care centres,
supermarkets, hospitals, peoples homes, pool and spa decks, gyms, commercial buildings in fact any
where there are tiles.
• It can be used in kitchens, bathrooms, toilets, laundries, tiled walkways and entrance areas, food
preparation areas etc.