Made To Size Film
Turn your glass into beautiful works of art. Our range of printed window film is a modern twist on stained glass, ideal for a interior & exterior.
The designs are printed on clear self adhesive film for added colour vibarancy, or on frosted window film for added privacy & for elegant look of wall you can print on vinyl, using a UV resistant digital ink for durability.
With our ordering system, you can actually order the designs to your exact measurements, so there is no fiddly trimming. The application process is very easy using a wet application method.
Clear Film
This is printed on clear film. We can design (print) as per client need. We can even print logo on these film. Film length - 48", 60".
Plottered Frosted Film
We can plotter film as per clients design. Infact we can plotter logo. Film Width – 48", 60".
Vinyl Graphic
We have the most astonishing backup team for Wall Graphics. These graphics are very famous as they change the whole room, office, shop in a magnificent aura. We cater to all the customized needs and adopt all the latest techniques to show case innovative and creative backgrounds. We included the entire primary and secondary colors and provide with massive piece that would enhance the room, office, mall, etc. We ensure original and pioneering ideas.
Features:

• Innovative.
• Latest Methods.
• Originality.
<%--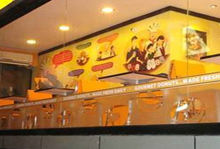 Features:
• Innovative.
• Latest Methods.
• Originality.
--%>